Grangegorman was a new urban quarter being created in Dublin's north inner city. It was to  have health, education and community at its heart and open up a once walled off part of Dublin.
Introduction
The Grangegorman site is an area of approximately 73 acres located in the Arran Quay Ward of Dublin in the district of Grangegorman. It is north of the River Liffey and south of the Royal Canal, and approximately 1.5 kilometres from Dublin's City Centre. The Grangegorman site is bounded by the North Circular Road to the north, Prussia Street and Stoneybatter to the west, and Brunswick Street to the south.
It is unique because of its location in the core of the city and, other than the Docklands and the Poolbeg peninsula, is the last remaining large undeveloped land bank in the city.
In September 2010, the Irish Government launched a major new infrastructure development project which will include state of the art mental health facilities, a purpose-built campus for the Dublin Institute of Technology ("DIT") and a variety of public amenities, to be built on the grounds of St. Brendan's Hospital in Grangegorman in Dublin 7. Aspects of this development include the "DIT Campus at Grangegorman – East and Central Quads PPP Programme", which is to be delivered by a Public Private Partnership (PPP).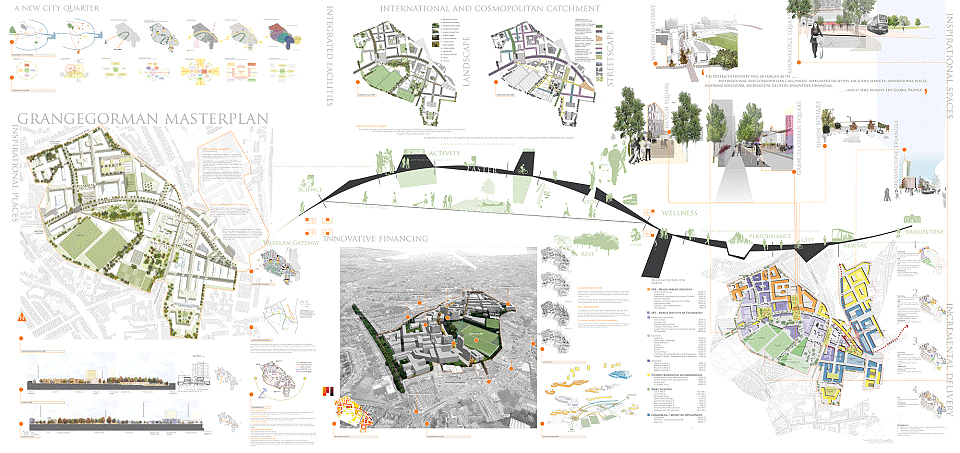 Main board presentation consisted of 6 A0 boards